2k Multibau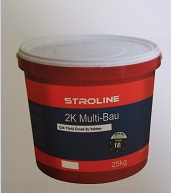 2K MultiBau&nbsp &nbsp
SCOPE OF APPLICATION
&nbsp Rapidly cured in wet floors and basement curtains in buildings, water tanks, reservoirs, water leaks in reservoirs, against pressurized and non-pressurized waters, against nesting under brick walls, under ceramic tiles in closed and open areas, in wastewater treatment plants, on balconies and terraces it can be used where it needs curing.
PRODUCT FEATURES
&nbsp &nbsp Bituminous thick coating is a bitumen free waterproofing material with waterproofing properties. 2-3 hours after application, rain is not affected by rain water. It has very high elasticity. It is resistant to UV rays. High pressure resistant. Environmentally friendly solvent free. 4-5 hours after the pedestrian traffic can be opened. It provides fast and full drying after 18-20 hours. Mortar can be used as filler material, can be sprayed. It can be applied to Old Bottom surfaces and mineral surfaces. It can be applied on horizontal surfaces and under screed. The resistances are against the equipments. It is resistant to anti-icing salts, decay, moss.
SURFACE WHERE TO APPLY
&nbsp It can be applied on clean, oil-free, dust-free surfaces. It can be applied to moist surfaces without age. It can be applied to old bituminous surfaces. Can be applied to non-rust metal surfaces. It can be applied to clean wood and plastics. Cracks larger than 5mm are filled with fine repair mortar and then applied. Corner is used after the chamfer is made. Mortar residues and protrusions on the surfaces to be used must be cleaned. On multi-perforated surfaces, the surface is smoothed by stripping with a 2k Multibaue malt. After drying, normal application is performed.
APPLICATION
&nbsp 2K Multibau consists of 10 kg of liquid, 15 of dust. Add 1.5 kg of powder per 1 kg of water liquid to mix as needed. Dust should be added to the mixing vessel first. In order for the product to adhere better, the individual is diluted and applied for the purpose of lining. After the primer, at least 2 layers of 2 K Multibau are used on the styrofoam. The second coat should be applied after the first coat has dried. Attention should be paid to thickness.
PACKING
25 KG PLASTIC BUCKET